After blogging on geeeek.com for several years, for some unknown reason I decided to move my blogging to a more personally branded domain. Enter: JohnHawkinsUnrated.com. Last year on December 14th I started JHU and since then geeeek.com has fallen in to ruins. Actually, so have a few of my attempts at blogging. I have "plans" for many of these projects, it's just finding the time to execute the plans that I need to work on. Really, what I need to do is find direction and figure out which projects are important to me and which are not. JHU I plan to keep as my personal blog. A place for me to rant. Welcome.
This is post #172 since the beginning of JHU. I was going to go back and pick out some of my favorite posts from the year, but I'm working on something similar for a post on New Year's Day. so instead I thought I'd do something a little different. Here's a snapshot of the "popular tags" found on JHU so far. I figure this would be a good way to figure out what my blog is all about.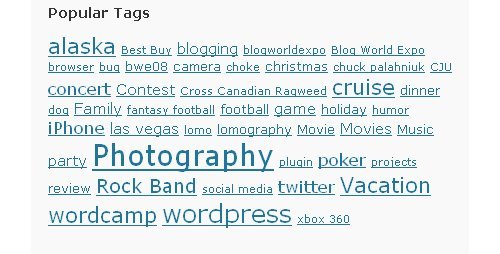 By the looks of it, my year was dominated by the following:
Yeah, that pretty much sums up my year. It will be interesting to see how this tag cloud changes over the next year. What will dominate my time and interest in 2009? I can't wait to find out.