It's hard to believe that it's been a year since the last Blog World Expo. I have been looking forward to this event for quite a while and I'm glad to say that at the end of day 1, I was not disappointed.
The day started off with the "State of the Blogosphere Adress" & Opening Keynote. Richard Jalichandra from Technorati started out by giving some really interesting numbers related to blogging and how blogs are changing the face of media. For example:
– 4 of the top 10 entertainment sites are blogs (OMG, TMZ, Asylum, Perez Hilton)
– 7.4 million blogs posted in the last 120 days
– 1.5 million in the last 30 days
– 2/3 of bloggers are male
– 50% of bloggers are 18/34
– 70% have college degrees
– 72% of blogs publish in English
There is a bunch more and Technorati is set to release the results of a huge study they've been doing. Be sure to check out their site on Monday for the full update.
After Richard, Chris Aldren and Anil Dash from Six Apart took the stage. They spoke about the power of blogs and where blogging is headed and they asked the question what should blogging 2.0 be? They spent a lot of time talking about the products available from Six Apart (Movable Type, Type Pad, Vox, Blogs.com, BlogIt, etc.) which didn't go over really well with the people I was sitting near (myself included.) Though, I will say that I'm quite interested in checking out BlogIt which is a tool for managing your blog from your iPhone. If it works better than the WordPress iPhone app, I'll definitely switch to using it until the WP app catches up.
The first breakout session I went to was Making Money Online with a Blog. This panel contained John Chow, Brian Clark, Zac Johnson, Darren Rowse and Jeremy Schoemaker and was moderated by Jim Kukral. In this session they talked about which forms of advertising made them the most money (direct ad sales being #1, affiliate links being #2 and google adwords being #3, except in the case of CopyBlogger where he makes his money by selling information products and subscriptions), they talked about tools they use for selling ads automatically and the biggest point they tried to drive home is that you need to be passionate about what you blog about. If not, it's going to show in your content and you'll likely never make any real money.
During the session they had people come up to the mic and tell them their URL. They would pull it up on the screen and they'd take turns telling the person ways to improve their site in order to make money. Even though I didn't go to the mic, I was still able to apply the things being said to my own site. There are changes coming soon.
After lunch I went to the Power Widgets to Amp Your Blog session. As a breakout session, I'm on the fence about it still. But, that being said, I got a fantastic look at Lijit and am glad I got to see it. Sure, I could have gone for a demo on the show floor, but I'm stubborn and thought I already knew what Lijit had to offer. The other presenters were WidgetBox, OutBrain and PicApp. All of which had something cool to offer. Widgetbox has 135,000 widgets for you to use on your site. They can also create a widget of your blog content that can then be added to other sites. I especially liked the idea of creating a content mashup widget. I'll have to research that a bit more this week. OutBrain is a widget that creates a "you might like:" section at the bottom of each of your posts and links to other posts that have similar content. You can have it pull in content from the web, from a selection of sites you provide, or you can lock it down to just your own blog. And finally PicApp. This app gives bloggers access to photos from sites like Getty Images without having to purchase them. Instead, they add a box underneath each image that they monetize for the photographer who took the shot. The nice part is, you can have access to high quality images without running the risk of getting sued for using unlicensed content.
The final session of the day for me was Creating Customer Loyalty with Social Media. This was, by far, the best attended session. Every seat was filled and there were people standing along the back and both side walls. The panel consisted of Toby Bloomberg, Tony Hsieh, Brian Solis and Frank Eliason and moderated by Becky Carroll. The main point being that people build relationships with people, not with companies. Companies that try to control all the messaging that is put out by the company are doing there customers, and themselves a great disservice by acting in this way. Comcast's policy for web content is this:
– disclose that you work for comcast
– if you have access to private information, don't make it public
– use your best judgement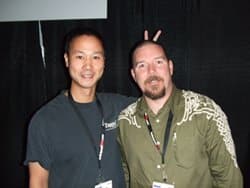 Tony from Zappos expanded on that by saying that your company culture has to revolve around proving good customer service. By not letting your employees have an online voice, you're basically saying that you don't trust your employees. (I'm also happy to say that after seeing this post about Tony giving Bunny Ears to people like Bill Gates, Serena Williams and Penn Jillett, I now have my very own bunny ears shot with Tony!)
Aside from the sessions, I made several great connections with people who I've been looking forward to meeting in person. I think I may have secured another couple of speakers for WordCamp:Las Vegas in January and have laid the ground work with a few companies who may sponsor a portion of the event as well. More on that in the coming weeks.
Tomorrow I'll write about my experience in the expo hall and a recap of day 2. Stay tuned.