Blog World Expo: The Party Edition
One of the greatest parts of any conference is the after parties. Have your conference in a town like Las Vegas and it's not hard to imagine that the amount of parties available to you is mind boggling. We definitely did our share of partying, too!
Here's what our weekend looked like:
Wednesday Night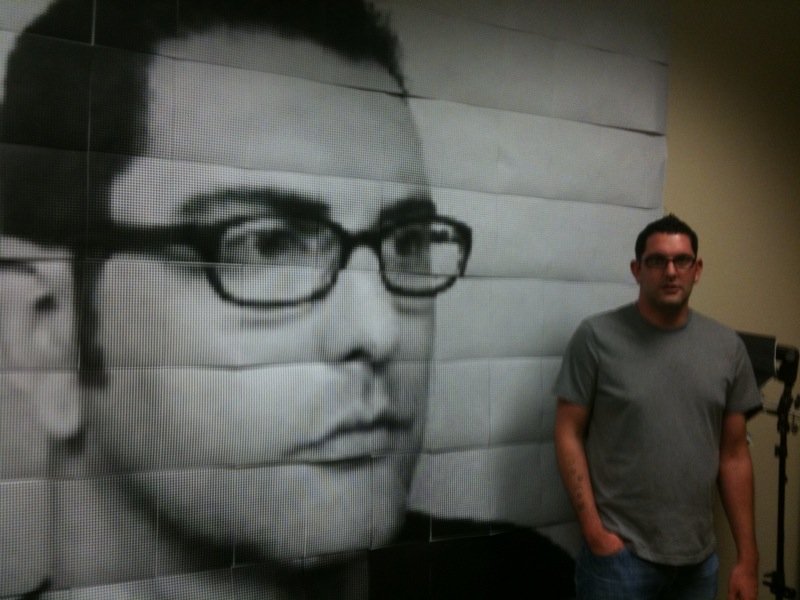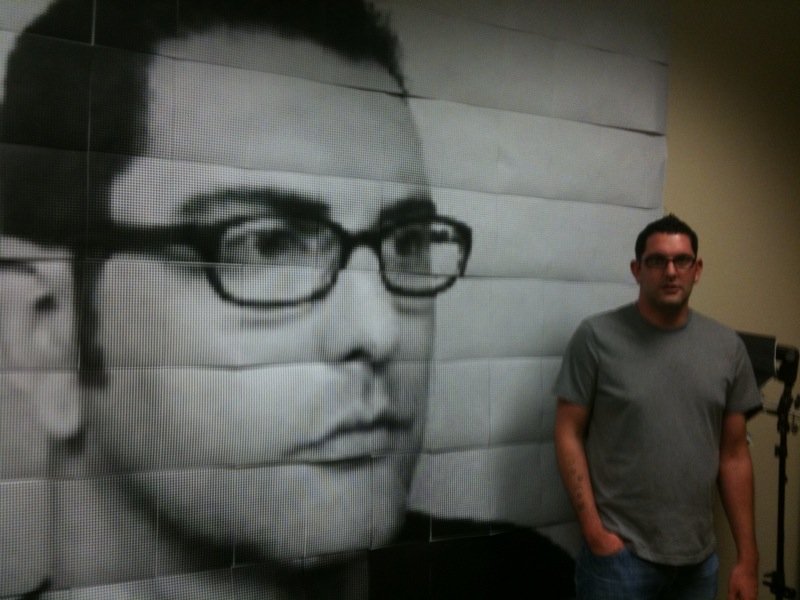 We had friends arrive on Wednesday, so after I went to the Track Leader Orientation, we all headed out for dinner and a nice long chat. We followed that up by surprising Shayne with a 8′ x 9′ mural of his Twitter avatar in our photo studio. If you ever want to make a mural yourself, let me tell you that this was 120 sheets of paper and 4.5 hours of cutting/taping/hanging. But it was worth it!
Thursday night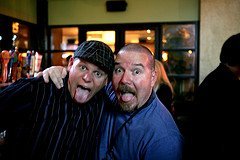 This was the first official day of Blog World Expo. I spent a few hours at the convention center, but mainly just to meet up with and say hello to a few friends in from out of town. The fun began around 5:30 when we met up at Bar Louie for our weekly Beer n Blog meetup that was set to kick off the WordCamp weekend. We had a turnout of about 60 people including a few people I had beer really looking forward to meeting; TechnoSailor (Aaron Brazell) and Ted Murphy from Izea (pictured with me here). Both of which, as expected turned out to be really nice guys. After spending 4 hours downing Blue Moons with the group, we headed home to rest up for the marathon day we expected on Friday.
Friday Night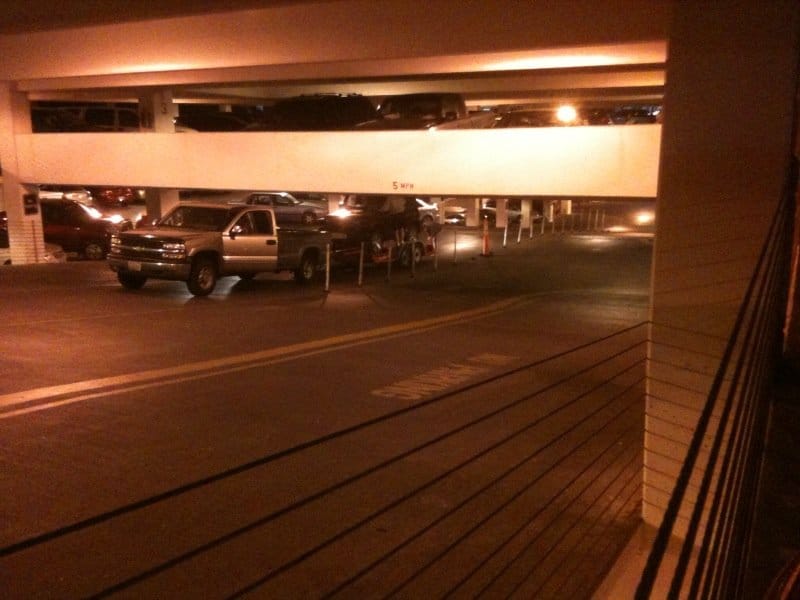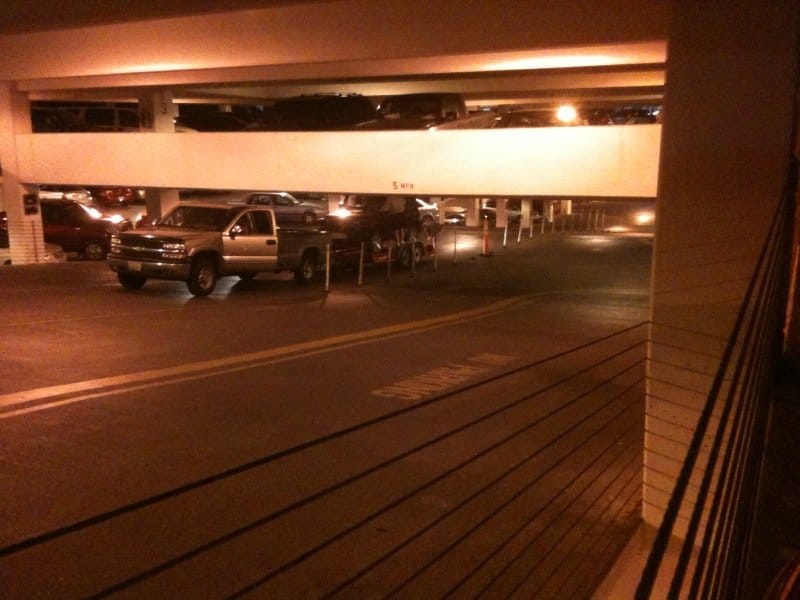 After a full day at WordCamp/Blog World, we headed out to the Hard Rock Hotel. You know it's going to be a good night when you are pulling in to the parking garage and the guy in front of you is towing a Jeep on a flat bed and you get to watch the Jeep hit the "7′ clearance" sign followed by the next 3 concrete beams. Ahh, welcome to Vegas. (sorry the photo isn't better on this one!)
Once inside the Hard Rock, we headed to the poker room where Blogs With Balls crew had organized a charity poker tournament for Ante Up For Africa. Pro poker player Annie Duke co-hosted the event and brought along a dozen big name poker pros to play in the tournament as well. Each table had 1 pro poker player and 1 pro blogger. They had put bounties on each of the pro bloggers, so if you knocked them out of the tournament you'd win a gift basket. I'm happy to say I knocked out our table pro and took home 7 xBox 360 sports games! We had a great time it was all for a great cause! HUGE thanks to Dan Levy for getting me and my friends in to the tourney and for putting on such an awesome event! Check out the video on YouTube.
Saturday Night
After WordCamp/BlogWorld ended it was time to strap on the party boots just one more time before sending everybody home. We started off hitting up the official BlogWorldExpo BBQ that went on poolside at the Hilton. They had an open bar and a HUGE spread of great food. The party was well attended by tons of speakers from BlogWorld which was nice since I was busy running WordCamp all weekend, I wasn't able to chat with many of them during the previous 2 days. I really enjoyed getting to chat with Darren Rowse in person since I've been reading his blogs for such a long time. It's was also nice to be able to chat face-to-face with people I don't get to see in person too often like Jim Kukral, Aaron Hockley, Shayne Sanderson, Austin Passy, Darin Hardy and at least a dozen others.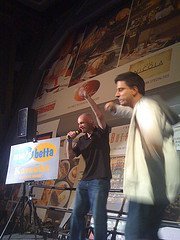 Once the BBQ was over we had to make a tough decision between two events that both sounded like a lot of fun. In the end we opted for the one that required zero driving. We walked inside the Hilton and headed over to the spot where they were doing #TechKaraoke. Nobody from our group sang, but we amused ourselves by watching the drunk geeks singing (I use that term loosely) and by having a "Fake ReTweet war". Don't know what that is? Well, the bar had a large screen (10′ x 10′ -ish) where they were showing Twitter messages that people had tagged with #bwe09. So, what you do is write up a tweet in the form of a retweet of your buddy. For example:
RT @my_buddy: Wow, I sure hope this rash goes away! Another great time in Vegas! #bwe09
This would then scroll across the screen and we would laugh our heads off. There is nothing like childish humor plus alcohol to make for an incredibly fun evening!
After a few hours of Karaoke and fake tweets, it was time to head back home and spend Sunday resting up! We were a tired crew after 4 long days and nights. But, we are looking forward to doing it all again next year!