The idea is fairly simple. The execution is a different story. Todd and I wanted to build a crazybooth to set up at the 5th annual Halloween party we were set to attend last night. What is a crazybooth you ask? It's a photo booth large enough to fit a few people inside and secluded enough to let people get crazy once they get inside.
The week leading up to the party, we went to lunch with a pad of paper and worked on the design for how we wanted to build it. The goal is to make it big enough to handle a small group, but small enough that we could set it up inside a normal size house without too much trouble. We also wanted to make sure that it was fairly portable so that we could take it to events without it being a major pain in the rump.
All our initial designs called for large amounts of PVC pipe. We'd build it in pieces that could break down fairly easily and be stored in a canvas bag. We were pretty happy with our "final" sketch and we were planning to hit up Home Depot after work on Wednesday to buy the parts. And then, before we had a chance, an idea floated to the top. We hit the sporting goods store in search of a picnic canopy. We then picked up some flat sheets, some clamps and we were in business.
We took all our goodies back to the house and set it up in our living room. We clamped white sheets around all sides leaving an opening for people to enter/exit and also for the tripod to sit mostly outside the booth but shoot between two sheets. We were fairly pleased with the results and we packed up and waited for the party.
Here's a shot of the basic setup (before all the sheets were hung) and a resulting shot of my son: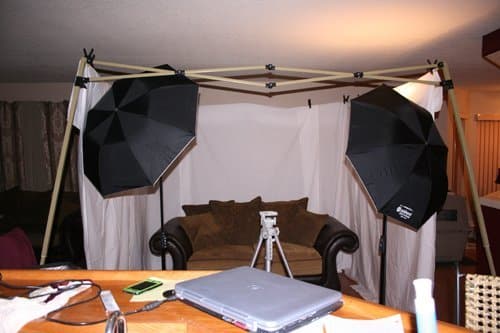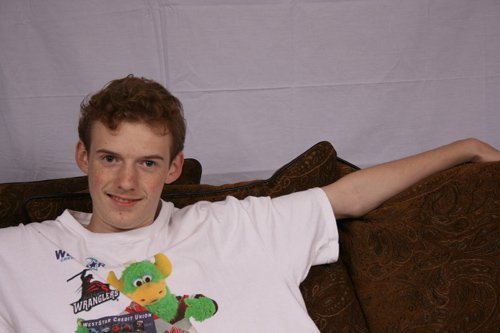 The day of the party came and we headed over a little early to get set up. The area we had to set up the 10×10 canopy fit PERFECTLY in the space provided by the host. Our host had a few soft box lights that she let us borrow. This was mistake #1. We set them up along with a flash and an awesome crazy green backdrop. As the guests started to trickle in, we'd grab them as they passed and threw them in to the crazybooth. This was mistake #2.
As the night rolled on, the booth became a popular spot. At one time we had a dozen people in line waiting to go in as groups. Between Todd and I, I'm guessing we took 500 photos. I've yet to see his results, but I can already tell you that the booth was a big success. The host thanked us SEVERAL times and we were asked for copies of the shots by at least 20 people. Even though it was a success, it was our first time trying the crazybooth and I can tell you that there are several bad choices made along the way.
Here are some things I'll keep in mind before our next outing with the crazybooth:
Do not use equipment you've never used before. While the softboxes were nice, they introduced some issues with flash syncing. I would like to have run in to that problem BEFORE I had people in the booth wanting their photos taken.
Do not use a bed sheet as the background. In the sample photo above, the sheet in the background shows all the creases where the sheet was folded. In the future I'll either use seamless paper or a crazy background like the one in the shots below.
Make sure there is enough light to allow your camera to auto-focus. While this wasn't a problem thanks to the softboxes, it's something to be aware of.
Do not use cheap wireless triggers and receivers for your flashes. I can't tell you how many shots were missed because the flashes didn't fire thanks to the wireless triggers. I'm either going to purchase Pocket Wizards to ensure they fire remotely every time, or I'm going to hook them up with a sync cable. The cheap triggers we used are fine for setting up stationary shots that we have all day to snap, snap, snap away. But, for "in the moment" shots they just won't do.
Don't forget the props. We were planning on hitting up the $0.99 cent store to pick up things like silly glasses, hats and other random items that people could use for inspiration to be silly. Even though we were going to a Halloween party where everybody would be wearing a costume, it still would have been nice to have some items that people could have used for inspiration.
Do not drag people in to the crazybooth. This could also be categorized as, don't open the crazybooth until half-way through the party. At any party that is going to include alcohol, it's important to remember that when people put it in their system, they tend to loosen up and get a little crazier. Unless you are looking to take photos that can be used in a school yearbook, let people acclimate, loosen up and seek out the crazybooth on their own. The resulting photos will be worth the wait.
Have extra everything. Batteries for your flashes and camera, memory cards, even an extra camera if possible. You won't always be close enough to home to run back once you get to an event. Make sure you have everything you need in case something fails on you.
For our shoot, we started off using my camera and then switched to Todd's once we started running in to the sync issues. Luckily, his camera didn't have the same problems. I took a few dozen shots with my camera at the beginning of the night. The shots from Todd's camera are going to be way more exciting (They were taken AFTER the alcohol was flowing freely). Regardless, I'm thrilled with the results and can't wait for our next opportunity to drag out the crazybooth.
Here are a few photos taken with my camera before switching to Todd's. A link to more will be added in the comments in a day or two when we process the rest of the shots.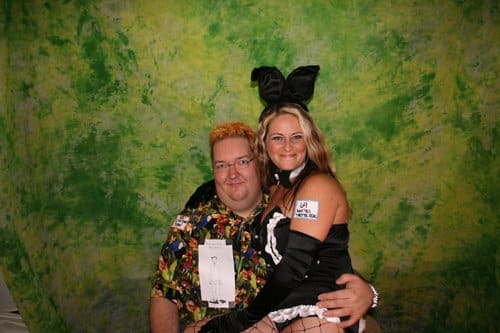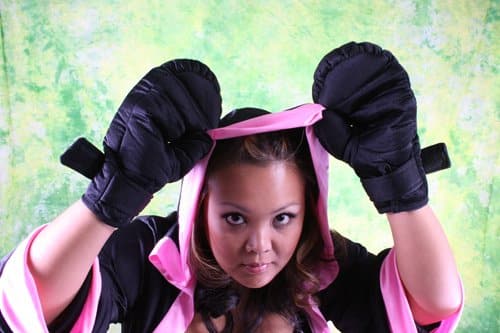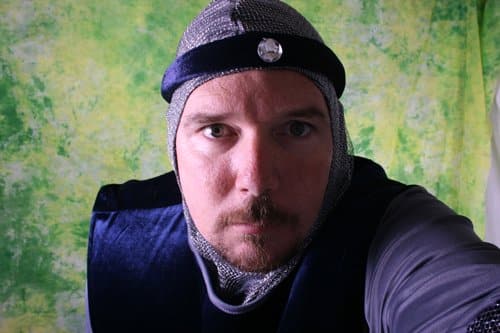 Many thanks to Nate and Jaclyn over at TheBlogIsFound.com. I absolutely love their photography and their blog was where we found the idea of the crazybooth.