Centralized mail/calendar with Google Apps
Warning: Sometimes I use my blog as a way to remember how I did something so that I can do it again in the future should the need arise. Since I've spent time trying to round all this up more than once now, I figure this was a perfect subject for just such a post.
Here's the scenario; I want to use Google Apps to manage my domain's email, and I want to have a centralized calendar that I can add/edit/delete from multiple locations and devices.
Part 1 – Setting up Google Apps to manage email for your domain.
The first thing you need to do is set up your account at google.com/apps/. They have a free version (for groups or individuals) and a business version that costs $50 per user per year. Select which works best for you and sign up. (I'm using the free version, so some screenshots may be slightly different for paid users)
Once your account is set up, log in to your google control panel for your domain and set up your user accounts (email accounts) for each user. You'll find this on the "Organization & users" tab. If you are switching the email for a domain that already has active email accounts, be sure to set up all the email accounts first so you don't lose any emails during transition.


Next, we need to point your mail at the google servers. To do this, you'll need to log in to cpanel for your website. In the "Mail" section, click the "MX Entry" link. In the "Change MX Entry" box, select your domain, priority should be set to 0 and in the box labeled 'to:' type: ASPMX.L.GOOGLE.COM and click the 'change' button. When finished, the page will look something like this: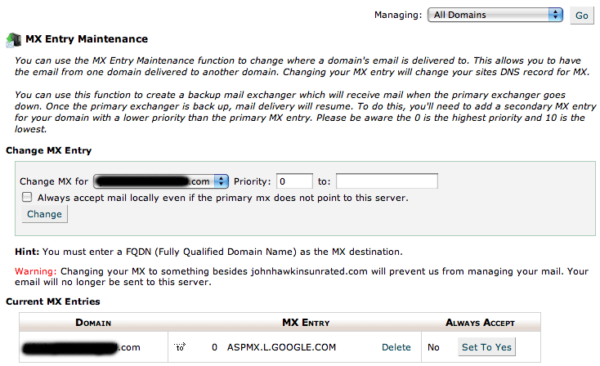 Google is now set up to handle your email. Depending on your server's settings, it may take a little while for emails to get routed to your new Google inbox, but after a few hours everything seemed to work itself out. My first few test emails took a couple hours to arrive, but now they are showing up within seconds.
If you want to use an external email client (like Outlook or your smart phone), there are instructions available here. If you just need the imap settings, they are:
Incoming Server
Server Name: imap.googlemail.com
Port: 993
Security: SSL/TLS
Outgoing Server
Server Name: smtp.googlemail.com
Port: 465
Security: SSL/TLS
I use IMAP across all my devices (desktop, iphone, ipad) and have it set up to save copies of any emails I send to the sent folder in my google account. This way there is a searchable way of accessing past conversations. Also, with IMAP, when I archive a message on my iphone, the next time I log in to my desktop email client, I don't have to repeat the step as I might have to do if I was using a POP account.
Part 2 – Centralizing my calendar
Keeping track of when and where I need to be is more important these days than ever before. My problem had always been with trying to sync my desktop calendar with my iphone and also allowing clients the ability to see my availability so they could schedule a meeting. I found that I missing appointments or double-booking myself because an event would get scheduled on my iPhone, but I would forget to add it to my desktop calendar. This is obviously NOT a good scenario. Here is how I solved it:
First, you need to enable google sync:
Log in to your Google cpanel. From the Service Settings menu, choose Mobile. Check the box next to "Enable Google Sync" and save the changes.


Now it's time to integrate.
Desktop email client
I use Postbox as my desktop email client, but these instructions will also work if you are using Thunderbird. By default it doesn't have a calendar built in. You will need to install an add-on. From the menu choose Tools -> Add-Ons. On the pop-up window, click Get Extensions. You'll be taken to the Postbox add-on page where you need to download a total of 2 plugins; Lightning and Provider for Google Calendar.

The first adds the calendar to Postbox, the second allows bidirectional access to Google Calendar. Once you download them, install them both (from the Tools -> Add-Ons menu) and restart PostBox. You'll now have a Calendar button in the main nav bar along the top.


The next step is to grab the link to the calendar feed from your Google account. Here's the steps:
– In a browser, go to the Google calendar page for your domain.
– Click the Calendar Settings link in the top right corner.
– On the Calendar Settings page, click the Calendars tab.
– You'll be shown a list of available calendars. By default, I believe it shows one for your company/group and one attached to your email address. That's the one I use. Click on the calendar icon next to your email address (or click your email address) in the list of calendars.
– on the [youremail] Details page, the bottom section is labeled "Calendar Adress", right-click on the "ICAL" button and choose "Copy Link Location"


Now that you have the ICAL link stored in your copy buffer, head back to Postbox. On the Calendar page, in the pane on the left marked Calendar, right click under the Home calendar and choose "New Calendar from the pop-up menu. Select "On the Network" and click Next. On the next menu page, for Format choose "Google Calendar" and in the location box paste in the iCal address. When you click next you'll be asked to name the calendar and choose a color for the entries. This is helpful if you plan on displaying events from multiple calendars. Once you click Finish, all your events currently stored on your Google calendar will be imported to your local calendar.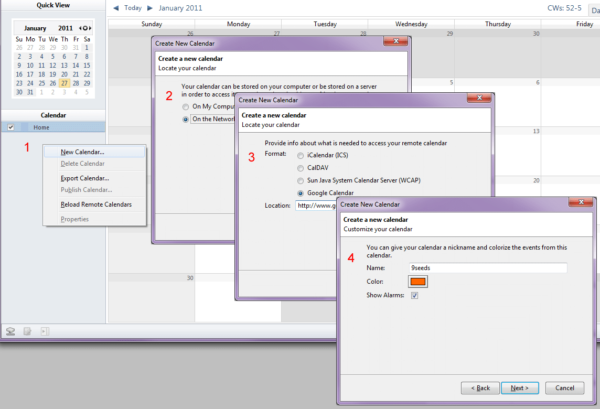 At this point, I deleted the "Home" calendar leaving my Google calendar as the one and only calendar on my system. Now, any time I add, edit or delete a calendar entry in Postbox it is automatically sync'd out to my Google Calendar.
Making my schedule available to clients
Scheduling time to chat with clients can sometimes be difficult. Especially when you throw time zones in the mix. At Blog World this past year I learned about a site called Tungle.Me. They have a great service that lets you mark what days and times you are available for scheduled meetings. You then send your clients to your page and let them pick a time that works for them. It adds it to your calendar and emails you that you have a new meeting. I though the service was cool by itself, but when I found out that it automatically syncs with a Google calendar, I was sold. Now, any time I add an event to my calendar in my desktop email client, it automatically blocks out that time slot on my tungle.me account. All syncing through my Google Calendar!
Once you create a Tungle account, setting up the Google sync is simple. Here's how:
– Log in to your account
– Under My Account in the left nav bar click "Calendars & Contacts"
– Click the "Add new Calendar & Contacts sync source" button
– Click the "Google" icon
– Enter your email address (I left the "import my google contacts" box checked, but do as you wish on that one)
– After you click continue on the previous step you'll be redirected to a google page where you need to grant Tungle access to your calendar.
Done and done. This part was super simple, but a REALLY big time saver for me.
Syncing to the iPhone
All this online connectivity is great, but sorta useless if you don't have the info available to you at the one device you have with you more than any other. Here's how I sync my Google calendar to the iPhone.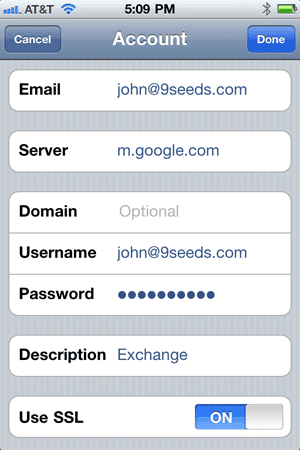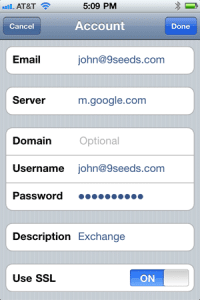 On your iPhone click on the Settings app and choose "Mail, Contacts & Calendars". Click the Add Account link, then click the Microsoft Exchange button. Fill in the Email address, leave domain empty, username is your full email address, fill in your password and you can make the description anything you choose. Once you click next it will verify your username/password. It will then add a new box called Server. Fill that in with m.google.com and click Done. (should look something like what you see to the right)
Once you see your account is created, you'll have the opportunity to decide which items you want to sync (Mail, Contacts, Calendars). I'm only using Calendar in this section, though, I could likely sync both calendar and mail in this one account rather than having a separate account for mail. (note to self, go back and test that at some point)
The next step, which is totally optional, I went in to the settings for the calendar on my iPhone and I set my new calendar as the default. This way when I create any new event on the iphone, they automatically sync back to my Google calendar.
Note: If you are using an iPad, the instructions for the iPhone are virtually identical.
At this point I now have one central calendar which I'm able to add to, edit or delete from no matter which tool I'm using. And, I'm happy to report I haven't double booked anything in at least a month. That's some sort of record for me.
Hopefully you found this useful. If you have any questions on any of it, I'm happy to help. Leave a comment below and I'll do my best to get you squared away.