A few weeks back I got a call from my buddy Sean in a bit of a panic. He's been scheduling these mini-social meet-ups where he's been doing interviews with some of the local social networking folks, and his interviewees for that evening needed to reschedule. Never one to turn down an offer for a free cocktail, I agreed to fill in.
Side note: I'm not sure why, but I have the perception that driving from my house to Red Rock Casino requires an overnight bag and rations for a couple days. I don't know what was going on this night, but we made it door to door in just over 20 minutes. Either I was flying (I wasn't), or my ability to estimate distances is way off.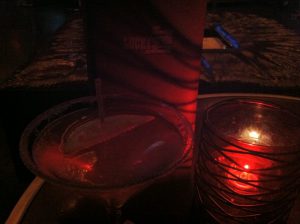 My wife and I were the first to arrived at Lucky Bar. Sean and Todd showed up shortly after. We grabbed a booth and each ordered a cocktail. There's a bit of an issue at Lucky Bar; they have a martini menu that has several drinks on there that all sound amazing. So narrowing it down to just one wasn't nearly as easy as I made it sound. Luckily the cocktail waitress was able to give us a little guidance and helped us each pick out something tasty.
Lucky Bar is a bit of an anomaly. It's situated right in the middle of casino floor, there are two doorways that do not have closing doors, but yet once we were seated inside, the sounds from the casino were basically non-existent. I should also mention that the shape of the lounge, plus the decor gave me the feeling that this is what it must have been like inside I Dream of Geanie's lamp. (I just assume she had a full service bar in there.)
After our first round of drinks was just about gone, Sean asked Todd and I some questions about WordCamp, Work and our lives in Vegas. We each had a second cocktail as we finished up the interview and then just kicked back and chatted for a bit before heading back home. From what I hear, our interview will be turned in to an article and should be available online pretty soon. I'll link to it once I get the deets.
The whole evening was a nice change of pace for us. I'm certain this won't be the last time we have cocktails at Lucky Bar. ESPECIALLY when Sean is picking up the tab! (I kid, I kid)