A few weeks back, my buddy Sean sent me the following email:
Clearly CrossFit is working for you. Can you tell me about some of your experiences? Honestly a lot of this reminds me of how I used to work out in high school / college. Granted that was… forever ago… but watching you has me inspired like all fucking hell and shit has to change.
I can't tell you how great it feels to have somebody say that I've inspired them to get healthy. Especially because in June I weight in at 235 pounds, the most I've weighed in my entire life. Healthy was about the last word I would have used to describe myself.
The road to CrossFit
If you follow me on Twitter or Facebook, or if we've talked in person since August, you probably already know that I started doing CrossFit. But my journey towards getting healthy actually started a few months earlier. June 16th, to be exact.
My wife and I were walking around the mall and stopped in to the Apple store. I stop in that damn place every time we're there, even if it's just to eyeball the toys that I can't have. While checking out the goodies, my wife points to the Fitbit and says, "I think I'd like to get one of those." The thought had crossed my mind in the past as well, so we purchased two of them and headed home. That night we charged them up, set up our accounts at fitbit.com with the simple plan of walking 10,000 steps each day.
I got off to a pretty good start. Day 1, 10,946 steps. Awesome! And that's where my streak ended.
Day 2 was a whopping 3,464 steps. Definitely not awesome.
On day 3, I got back to it. I went 6 days in a row before falling short on the 7th day.
My problem was, I needed to make it part of my routine. And that's what I did. My next streak was 44 days long with a daily average step count closer to 15,000 steps. At the end of that streak, my weight had dropped to 215 pounds.
It wasn't just the walking
At that same time we started walking, I made a few other changes. I stopped drinking soda and started to make better food choices. I cut out most carbs, drank a metric-ton of water, ate more veggies and stopped eating late at night. I hesitate to say that I "went on a diet", because I know from experience that if I'm "on a diet", eventually that will end and I'll go right back to eating the way I did before. So I don't call it a diet. And it really isn't. I still eat whatever I want. If I want pizza, I'll eat pizza. If I want a burger, I'll make it a double and put bacon on it. The trick is, I just don't do it nearly as often. I eat a lot of steak, chicken, salad and veggies.
I also made a few other changes in my life that I believe have played a big part in my health and happiness. I brought on two business partners which has enabled me to work less hours and has reduced my stress level by a bajillion percent. I have also started taking more time for myself. I know that sounds like it's part of the 'work less' thing, but it's more than that. I stopped checking email on my phone after I climb in to bed. And, in the mornings, instead of reaching for the phone and checking email immediately, now I get up, go for a walk, shower, eat and THEN check email. It sounds like a silly thing, I know. But the difference it has made over the past 5 months has been unbelievable.
Introduction to CrossFit
My buddy Scott has been doing CrossFit for a couple years. He has tried in the past to get me to try it out. The only thing I can tell you as to why I hadn't tried it sooner was that I wasn't in the right frame of mind. I also think that I felt like I was too out of shape to try something as hard as CrossFit. Once I started walking every day, after about a month I decided that once I lost 20 pounds, I would give CrossFit a try.
I called CrossFit Henderson and set up an appointment for Chris and I to start the "CrossFit Basics", a 5-session program designed to teach us the general skills needed to participate in a regular CrossFit class. Our first session took place on August 12th, one day after I crossed the 20 pound weight loss mark. I'd love to say I planned that, but really it was just fun timing.
It didn't take long to figure out that I wanted to sign up and keep going. Which I find a bit funny because a few years ago we bought memberships to a gym that is literally 3 minutes from our house. We paid for that membership for an entire year and NEVER ONCE set foot in the gym. Our CrossFit box ('box' is CrossFit lingo for "Gym") is about 20 minutes from our house and we have been going 3 to 5 times a week.
Why CrossFit sticks
I've had several people ask me why I like CrossFit. For me, there are 4 main things that I LOVE about CrossFit and play a big role in why I'm sticking with it:
1. The Coaches
Here's the thing, the box we go to is really low key. The coaches are there to help and to motivate, but you will NEVER hear them yelling at somebody "DO ONE MORE!!" or any of that macho bullshit. I think that's important because it's always a motivating place where they lift you up and praise the work you are doing. They don't look down on you for what you can't do today. The push, without being pushy. I'm sure there are people out there who thrive under the Drill Sergeant method of coaching, too. It's just not for me.
2. Scaled Workouts
If you ever want to freak somebody out about CrossFit, tell them you are working on Handstand Pushups. You can see them cringe. But, when I first started, no way could I do a handstand pushup. So, when you get to the gym and you see Handstand Pushups on the workout, you just have to scale it back to what you CAN do. So, that might be just working on getting in to a handstand position. Or, doing a wall-walk. Or all the way back down to a regular pushup. Same thing with pull-ups. I'm not sure I could do a single pull-up when we first started. So I scaled them by using bands for assistance. Trust me, it was still a workout and they still kicked my ass. And, guess what, no matter what level you're doing, the coaches and the other people at the gym are encouraging and will tell you good job for what you DID do.
I love the scaled workouts because it allows me and Chris to go to the SAME classes and we get to do the SAME workouts at the SAME time. We both just scale our movements to the level that works for us today. I find great enjoyment in the shared experience.
3. Every Workout is Different
When we started walking every morning, I needed to start finding multiple routes because I would quickly get bored doing the same route day in and day out. With CrossFit, every day WOD (Lingo: Workout of the Day) is different. This past Thursday we did handstand pushups, deadlifts, pull-ups and double-unders. On Tuesday it was medicine balls and running. Monday had rowing, burpees and double-unders. Some workouts have you do as many rounds/reps as possible in a given time. Others have a set number of rounds/reps and you get them done as quickly as you can. I can't wait to see what's on tap for tomorrow!
I love love love the variety and randomness of it!
4. The Community
I absolutely believe that my enjoyment of CrossFit has a lot to do with the great people at the gym and just the overall environment. When there's a group doing a workout, as soon as the first person finishes (after they catch their breath), they are cheering on the others who have yet to finish.
Last week I was doing a particularly brutal workout. It was 3 rounds of 50 Medicine Ball Cleans and an 800 meter (roughly half a mile) run. As I was part-way through my 2nd run, Tristan, who had already finished the workout caught up and ran with me. When we got back, he cheered/coached me through a VERY painful final round of 50 medicine ball cleans and then ran with me through the final 800 meters. I had the slowest finishing time of everybody at the gym for the entire day. But without Tristan's encouragement, there is a good chance that I may have stopped, or at the very least taken at least 10 more minutes to finish.
Changing Goals
On Thanksgiving I was chatting with my brother-in-law. He mentioned my weight loss and asked if I had a goal weight in mind. When I started with the daily walking back in June, I did have a goal weight. I wanted to get to 180 pounds. Not for any specific reason other than I thought it sounded like a reasonable goal. But I set that goal before I started CrossFit. And from where I stared, I'm well over 50% of the way to that goal, weighing in at 202 this morning. Thing is, I've been weighing in each day for the past 3 weeks between 200.2 and 204. I've hit a major plateau, but I'm completely fine with it because I feel great. So, my goals have shifted. They are no longer tied to a number on the scale. Instead, here's some of my current goals:
10 unbroken strict pull-ups (currently 3)
25 unbroken kipping pull-ups (currently 5)
25 unbroken double-unders (currently 8)
50 unbroken push-ups (currently 25)
Rx Fran in under 7 minutes (Here's a Fran workout in under 3 minutes) (I have yet to Rx Fran)
1 Muscle-up (currently… not even close)
Is CrossFit right for you?
Honestly, I have no idea. That's really something you have to decide for yourself. For me, the results speak for themselves. In June I was wearing size 38 pants and was about ready to move to 40s. I'm now wearing 32s. My XXL shirts are packed away. I FEEL better than I have in 15 or 20 years. Yes, even better than when I was training for the marathon.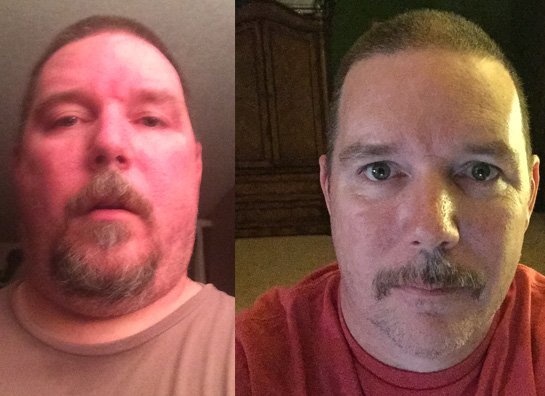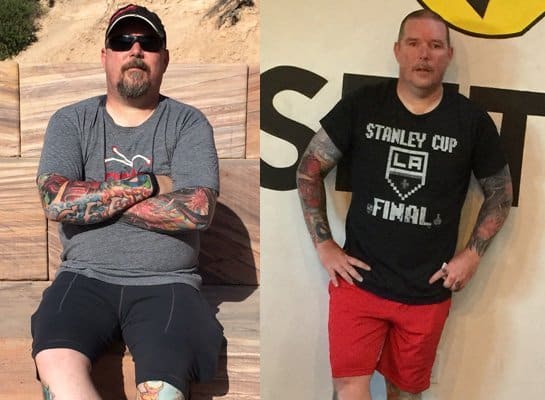 It's hard to argue with results.