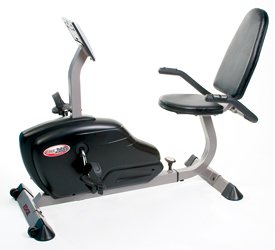 Week #2 was another successful one for the diet. I was able to get in at least a short walk every day. Most of the days were either a 40+ minute walk or roller blade session. The treadmill came in real handy on those days when it was pretty ugly outside and a walk after work would have been rather chilly.
On Friday I decided I wanted to get a stationary bike, but wasn't sure where we would be able to put it. After some maneuvering, we figured out that we would be able to set up the bike in the massage room. So, we headed to the mall and picked up the Edge 288r Recumbent Exercise Bike. Then, Saturday morning we went to our storage unit and retrieved a TV that we had been storing. A quick trip (two, actually) to Wal-mart for a super cheap DVD player (plus an adapter for our ancient TV that didn't have RCA inputs… Bah!) and our "work out room" is up and ready for action. We've also decided that since the treadmill is on wheels and is pretty easy to move, we are going to bring it downstairs from the office and set it up in there, too. We'll just need to move it once a week for our weekly massages.
OK, enough about the toys, back to the diet:
After my fluctuation in weight mid week, I worked extra hard on Wednesday, Thursday and Friday to keep my calorie intake low and my water intake high. That idea was put to the test on Saturday, though. We were invited to a pre-wedding shower for some friends. We knew ahead of time that there was going to be a lot of food and alcohol. We made a plan to eat a healthy dinner before heading over. We barbecued up some salmon, steam some broccoli and had a small amount of rice about an hour before the party started. The salmon was unbelievably good!
While we were at the party, Don tried relentlessly to get me to drink beer with him and to try every food item in sight. After telling him no for the first 40 minutes, I just started telling him "OK" and then not doing it. It sorta slowed his asking, for a bit…
Sunday we went on a long slow walk. Around 60 minutes total. I didn't feel like it was "enough", but I was too lazy to hop on the bike or treadmill. Blah.
The Monday morning weigh in had me at 209.4 -Â So, I'm down from where I started the week, but only by 2 pounds. Here's hoping that next week is closer to 5 or 6 pounds…