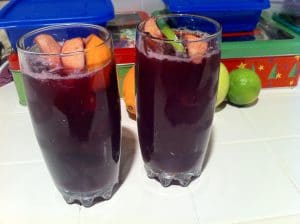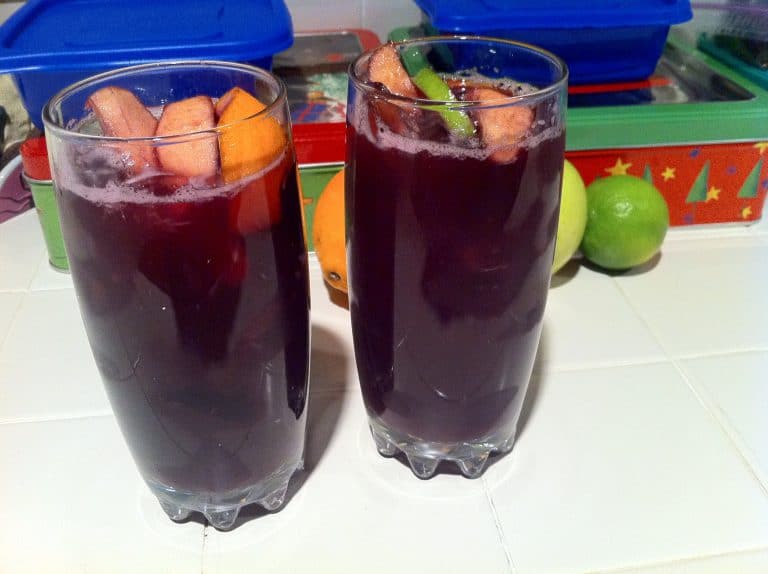 A couple months back I had the pleasure of going out to dinner with Chris Brogan at Texas de Brazil. When the waitress was asking us what we wanted to drink, Chris suggested a pitcher of sangria. I'm not a wine drinker, but agreed to split it with him. I am glad I did. It was my first time trying sangria, and it was VERY tasty.
Since then I ordered sangria at another place, and pretty much hated it. The main difference being the first sangria was made with red wine and the second used white wine. Well, at least now I know I need to ask if it's red or white sangria before I order next time.
I had the brilliant idea of making sangria at the house for Christmas. I went online and checked out a few dozen recipes, but couldn't find one that sounded exactly like what I wanted. So my wife and I just started making a list of items and headed off to the store to grab the ingredients and create our own version. We bought enough ingredients for 2 batches. We made the first batch the night before so we could test it out. If it was good, we'd match the recipe the next day. Otherwise, we'd tweak as needed. I'm happy to say that we liked the first version enough to make the same version both times. I had offered to share the recipe if all went well, so here you go!
DIY Sangria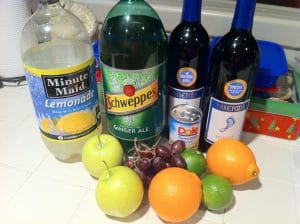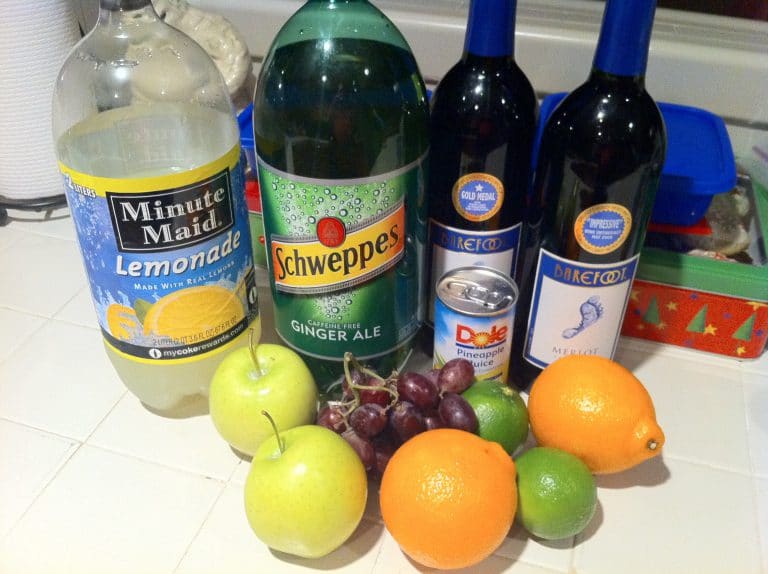 Ingredients:
1 bottle red wine (merlot)
1 cup ginger ale
4 oz lemonade
12 oz pineapple juice
1 dozen grapes
1 lime
1 orange
1 green apple
3 tbs sugar
How to prepare
– Slice grapes in half
– Slice orange in to rounds
– Slice lime in to rounds
– Skin, core and dice apple
– Add grapes, orange, lime, apple and sugar to pitch
– Use spoon to mix and gently mash fruit/sugar
– Add wine, pineapple juice, ginger ale and lemonade
– stir
– refrigerate for an hour
– Serve over ice
What we'd do different
For being our first go at this, I'm pretty happy with the results. That being said, we've talked about some options for what we'd do differently next time around. Here are some of the things I plan to try tweaking:
– Replace lemonade with orange juice
– Use a cabernet instead of merlot
– Not include the slices of lime
If you end up making DIY Sangria, report back and let me know how you liked it. Or, if you tweaked it any, let me know what you tried and what the results were. I'm already looking forward to making another batch this weekend!