Favorite WordCamp SF moments
Each time I go to a WordCamp, there are certain moments that stick out as great memories. Some have to do with who you meet, some are just right place/right time and others are just personal. This past weekend at WordCamp San Francisco, I had a few of these moments and thought I'd share them with you.
The first one happened at the WordCamp after party. I was chatting with Joseph Scott from Automattic and my friend Todd and I asked Joseph what projects he's been working on. He then spends the next few minutes talking about a ridiculously cool feature that is going to make handling videos for your blog easier (i.e. from your dashboard) and without having to give away all your rights to the video by placing it on other services… When he was done, Todd and I agreed that this sounded freakin' awesome. So I did what any true geek would do when presented with something so cool information, I threw my arms out and said, "Bring it in." Joseph, being the cool guy that he is, opened his arms and leaned in for a quick hug.
Later that night when we were back at our hotel and grabbing some food in the pub, the thought of hugging Joseph came back to me and I cracked up. Thanks Joseph for being such a good sport!
The second moment requires a little bit of setup. My wife is very much non-technical. Even still, this past weekend was her 3rd WordCamp event thanks to hanging out with me. Though at her first WordCamp she worked the registration desk and at her second she spent much of her time playing games on her iPhone.
While at the Reno-Tahoe WordCamp, we heard Matt Mullenweg talk about a cool WordPress theme called P2. P2 gives you the ability to post directly from the front page (like Twitter's home page) and then updates automatically when new comments come in. This can be used for groups of developers to discuss a project they are working on collectively and will store all the information for viewing later if needed…
Fast forward to this past Saturday. We were sitting in the Q&A session hosted by Matt. Somebody in the audience stood up and started asking a question. As he was describing it, in my head I already know that Matt is going to tell him he needs to check out the P2 theme as the answer to his need. Just then, still before the guy has finished his question, my wife leans over to me and says, "He needs P2, doesn't he?" I can't tell you how proud I was at that moment!
This final moment I'm going to tell you about also needs a little back story. Last Halloween Todd and I set up a photo booth at the party we were at. As the evening went on, people had more and more to drink. This made the photos later in the evening just that much sillier. One of the photos is of my wife holding up her fingers as if she's holding a couple six-shooters, and though you can't hear it, she's saying "Pyew Pyew" as she's shooting them. And, for the record, "Pyew Pyew" has stuck around and is still something we laugh about.
On Friday, Todd, Chris and I decided to visit Alcatraz. As we went through the line waiting to get on the boat, there was a photographer there taking photos of couples and groups that they would then sell you upon your return for $22 for two 5x7s. I was certain there was no way we were going to purchase these photos, so I told Todd to go ahead and join Chris and I in our shot. Right before he snaps the shot, I hold up my hands and make the pyew-pyew noise. This makes the photographer laugh and in turn Chris and Todd, too. So I make Chris and Todd join me and we all throw our six-shooters in the air. When we got back, the photo was just too good to pass up.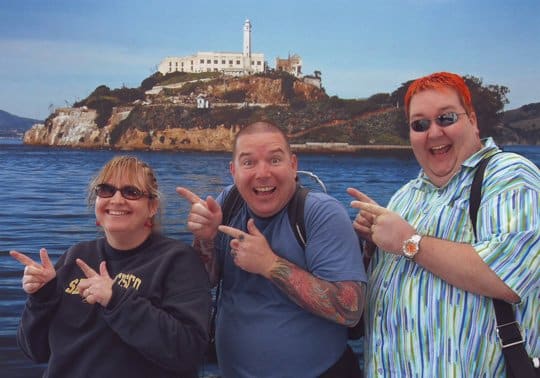 You can find the original photo on this page for comparison.