When I first signed up at my new CrossFit box, a few guys were talking about an upcoming competition that they were planning to go to called The Axel CrossFit Showdown. It sounded like fun, so I signed up. A few weeks later they started posting the workouts that we would be doing at the competition. It didn't seem like as much fun after I saw the list.
Here's the workouts:
Event #1 – the leg killer
For Time (15min Time Cap)
400m Run
30 Alt. Back Rack Lunges 115#
15 Back Squats 115#
15 Box Jumps 24″
400m Run
30 Alt. Front Rack Lunges 95#
15 Front Squats 95#
15 Box Jumps 24″
Event #2 – Jump rope / C&J ladder
Each athlete will have 40 seconds to complete 35 singles and 1 C&J. If they complete the task, they will move on to the next weight and repeat. There will be a 10sec transition/rotation time for the athletes to move to the next weight. The weights are as follows:
Men (95, 105, 115, 125, 135, 145, 155, 165, 175, 185, 195, 205, 215, 225, 235, 245)
Event #3 – The Chipper
for time (15min Time Cap)
15 Hand Release Push-ups
25 Parallete Dips
35 Wall Balls – 20lbs, 10ft Target
45 AbMat Sit-ups
35 Kettlebell Swings – 53lbs
25 Plate Burpees
15 Snatch – 95lbs
I had two goals for the day:
1) Work hard
2) Have fun
In event #1, the run wasn't bad, but the back rack lunges were really taxing. Going right from those, in to the squats followed by the box jumps… let's just say that the name "The Leg Killer" was appropriate. Oh, and that was only half of it because then you go and do it all again.
I made it through all of the Front Squats and was able to finish 1 rep of the final box jumps before hitting the time cap.
In event #2, my goal was to complete the 9th round, which be 175#. That would tie my PR for a Clean & Jerk. The trick is, that would also mean that I would have completed 315 jump ropes. Oh, and that would also be after a workout called "The Leg Killer." I completed the 165# successfully, then moved on to round 9. I did the jump ropes and was able to clean 175#. But, I was unable to get it over head. So close. But I have to say, I really liked this workout.
Event #3. Ya know how event #1 was called the leg killer, well this was the arm killer. Push-ups, right in to Parallete dips. OK, that sucked. But wait, there's more. Wall balls! Hurray. But that's fine, next you get a break. Oh, no you don't. Ab-mat situps are about my least favorite thing in the gym. But then you get to swing a kettle bell, right in to burpees.
Sadly, I didn't finish this workout either. I made it to the burpees and completed 22 of them. My arms were smoked, but that's not really what kept me from finishing. I simply didn't have anything left in the tank.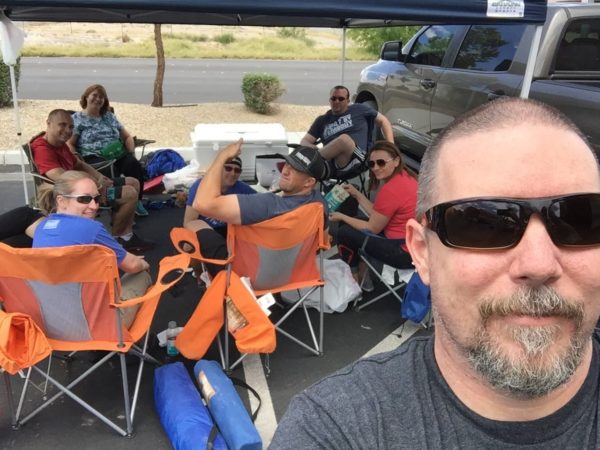 I had an absolute blast hanging out with the CrossFit Embody crew and competing. As for my goals, nailed both of them!
I'm definitely looking forward to doing another competition and finishing a little higher in the standings. We'll call that goal #3.