The year was 2008. I was in the process of organizing a conference centered around WordPress and was reaching out to some people who I wanted to speak at the event. I really wanted somebody to talk about eCommerce, so I reached out to the guys at Instinct. At the time, they weren't just the biggest player in the game, they were about the only game in town. I asked them to come and speak and they agreed. I was stoked. Until I got an email a few days later that said something to the tune of "We are based in New Zealand, so instead we're going to send one of the people who helps out in our forum who lives in Texas." I was not happy. But, if it meant the difference between having somebody come and speak about eCommerce vs not having somebody, I was going to have to suck it up.
I didn't know the person they were sending. Actually, at that point I didn't know hardly anybody in the WordPress community. But I was so put off by how I felt I had been wronged that I immediately had a negative perception of the person they were sending. No fault of his own, I just feel like I'm being thrown 'some guy' who I've never heard of.
The day of the event finally rolls around. My wife is working the registration desk and I've asked her to let me know each time one of our speakers checks in so I can come out and get a photo with them. When she calls me over to meet the eCommerce guy, he's battling a cold. GREAT, I think to myself. I sure hope he can make it through his presentation. Ugh! He's really wracking up the negative points.
Paraphrasing from Fight Club, And this is how I met Shayne Sanderson.
The tide turns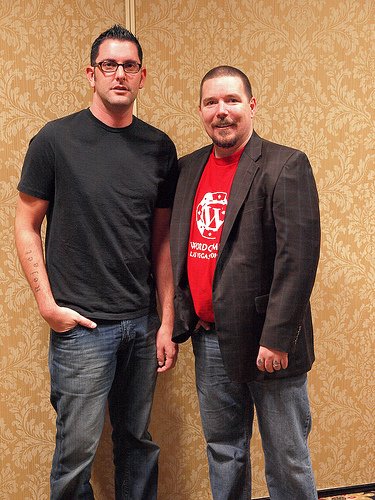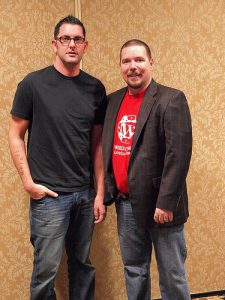 Shayne went on stage and absolutely killed it. He has a dry sense of humor and the crowd really liked him. So did I. That night, we hung out a fair bit at the after party. He and his wife ended up coming back to our hotel room where we hung out and chatted until… I don't even know when. He almost immediately started working off those negative points from before.
At the time I met Shayne in January of 2009, I had been working at my then current job for 9 years. Things at that job had started to turn. I wasn't loving my job like I was before. The place had been changing and I wasn't sure it was for the better. Over the next few months, several things would take place:
1) I took an even larger interest in WordPress development. I had already been working with it for years, but my interest in learning more and more continued to grow. I was building sites for people as side projects and the number of requests was really starting to grow.
2) My love for my previous job was fading FAST. By the end of summer, I had used up the majority of my vacation time. This was new territory for me because I had always really loved my job, so I took very little time off. I always had multiple weeks of vacation time banked. I remember distinctly walking in to the kitchen and telling my wife, "I hate my job." It was the first time I really came right out and expressed how I had been feeling. I'm sure she already knew I was unhappy, but I think the full weight of those words took her by surprise. I know they did for me.
3) Shayne and initiated a weekly chat session. We would hop on the line on Wednesday afternoons and just shoot the shit. We'd talk about projects, kids, life, jobs, everything. It was rarely about trying to find answers for anything specific, it was just a great way to blow of steam.
A funny thing happened
Summer was ending. Both of us were fed up with our jobs. We had started collaborating on side projects together. Then, probably on one of our Wednesday chat sessions, we came up with this crazy idea; we should start a company.
So, to recap, in January I had no idea who this guy was and wasn't happy to have him come speak at my event. By middle of September we were starting 9seeds together.
Every single day, including the days where things seem like they are a complete cluster fuck, I am so thankful that 9seeds happened. I love what I do. Yes, even on those 16 hour days when trying to cram for a deadline.
I've often been quick to judge people. My wife has called me on this when we've been at parties and she says she can tell by the tone of my voice when I've made up my mind that I don't like somebody. Sometimes that can be 2 sentences in to a conversation. I don't know what scares me more, the fact that I do that or the fact that she can pick up on it. Regardless, it's pretty shallow on my part.
Group project time
When I think back on the events that lead me to where I am today, I'm extremely grateful for all the people that I've met along the way. Some of those people I can honestly say changed my life.
I want you to try something with me. The next time somebody is thrust in to your life who, for whatever reasons, starts off on your bad side, I want you to give them a chance to work past that first impression. They may just change your life.
Then again, they may end up just being an asshole. Your results may vary.