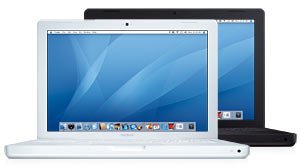 It has been 12 – 15 years since I have owned a Mac. My first one was a $3,000 laptop that had a battery life of about 40 minutes and enough computing power to perform 5th grade algebra. Oh how the times have changed…
Back in February Todd took the leap and ordered himself a MacBook. Since that time he has commented several times on how nice it is. Todd being the uber-geek that he is, I value his opinion above most others when it comes to things of this sort. However, I just haven't had a need for a new laptop as my IBM ThinkPad has been getting used on a very limited basis.
Fast forward 6 months …
This week I have been in a few discussions with some people regarding the possibility of helping to run a podcast based blog for somebody who has great content, but little time. With several of my associates and friends all happily working on Macs, it seemed this may be a good time to take the plunge myself.
Before clicking the submit button on my order I asked Carl (a self proclaimed Mac/Apple FanBoy) some questions about the Mac. The most important question I had for him had to do with how easy it is to switch the keyboard from a QWERTY layout to the Dvorak layout. Once that issue was put to bed, I logged on to apple.com and placed my order.
I opted for the "starter kit", if you will. I ordered the 13-inch: White 2.0 GHz. I upgraded to 2 GB RAM and the 160 GB hard drive. I'm considering this the "dipping my toe in the Mac waters" purchase to see how I like it. But, at just over $1500 with the upgrades & tax, it seems like an awfully big toe.
So now I wait. My status page says I'll have the new MacBook on or before October 1st. Seems so far away right now.