Thanks to Twitter, URL shortening services are basically a must. What bothers me is that by using them, you are giving them all your statistical data. Some of them offer you an account to log in and view some basic stats and then charge you if you want additional reporting. Bah! That drives me crazy!! I don't want to give them my data for free and then have them charge me to view it. I want the control in my hands! So I did what I normally do when something like this rubs me the wrong way, I went looking for a solution built around WordPress. That's when I found Pretty Link Pro.
I bought the pro version of Pretty Link and installed here with the goal of using it as my own personal hub for URL shortening. The script has a bookmarklet that makes it dead simple to create new links. After using it for the past week, I realized that I wanted to be able to display a list of the most popular links I send out. Since all the data is stored in my database, writing a plugin for it was simple. Suck it, bit.ly!
Top Pretty Links widget
The plugin is pretty simple. Add it to your wp-content/plugins folder, activate it and then add the widget to your site from the widget menu. I've added a few options so you can display the click count or shorten the descriptions if you don't want huge titles wrapping across multiple lines. Here's a couple screenshots.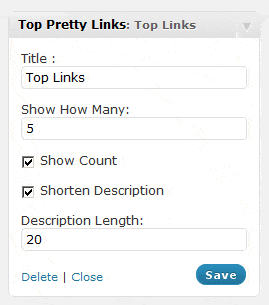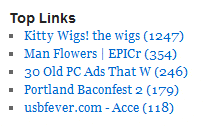 Download it
The Top Pretty Links widget is free and you can download the zip file here. If I didn't make it obvious before, you will need the Pretty Links plugin as mine is only a companion plugin.
I hope you find it useful!
Big thanks go out to Blair Williams! I'm absolutely loving the Pretty Link plugin!
(funny side note: I've been using twitterfeed to auto-tweet my blog posts. They, of course, use bit.ly. Fixing that is next on my list….)