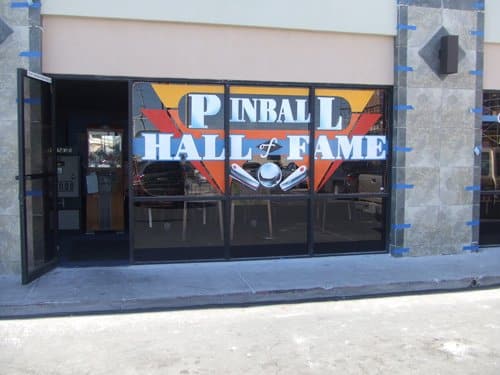 Recently my son found out about a place here in town called the Pinball Hall of Fame and has been asking us to take him there for a couple weeks. After some quick research we found out that it's not that far away from us [it's on the corner of Trop and Pecos]. So yesterday we piled in to the car and headed on over.
The sign out front says they have over 200 classic pinball machines and games. Woo Hoo! I can't wait! I love playing pinball, and at one point I even owned a Funhouse Pinball machine. I was stoked to see they had a Funhouse machine as I haven't had a chance to play the game in a couple years. Though, I'm considering buying another one from a buddy in California who has one.
They have pinball machines from just about every era. They had a ton of really old machines that I had never seen before including one, that I can't recall the name of, that was #3 of only 11 made and there are only 2 known to still exist today.
On the very back aisle they had a bunch of classic video games including Donkey Kong, Missile Command, Tetris, Crazy Climber and a munch more. I played Donkey Kong and Crazy Climber. I did OK at Donkey Kong, but wow do I suck at Crazy Climber. I loved that game as a kid and was pretty good at it at one point. But, it's probably been 15 years since I last played it, so I'll cut myself some slack.
If you want to go check the place out, let me know and we'll tag along!
I can pretty much guarantee we'll be going back. The whole family had a good time.