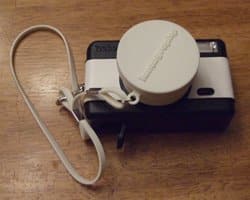 I recently purchased the Lomography Fisheye Fixed Focus camera after a introduced me to the Lomo group on flickr.com. I was really intrigued by the many different styles of Lomo cameras, but have always been a fan of fisheye photos. When I found out the camera was less than $40, it was a no brainer. I had to have it.
It arrived a few days later and I opened the box like a kid on Christmas. For a unique camera like the Fisheye, it was little surprise that the box it came in was also unique. When you open the square box, the first and only thing you see is your new camera staring up at you like the boy in the plastic bubble through the plastic dome cover. A nice touch, if you ask me.
The fisheye camera is very light. It takes a single AA battery (not included) to charge the flash. The wrist strap and lens cover are both made of rubber and are quite stretchy. There aren't a lot of buttons or gadgets to mess with on the camera, so from the time you get it to the time you are ready to take your first shot is no more than a minute or two. For a guy as impatient as me, perfect!
The camera comes with a full-color booklet of sample photos that is really cool. One of the things that I liked most about the booklet was that they didn't include only "perfect" shots. It really captures the essence of Lomography by being a collection of "from the hip" photos. That's not to say they aren't good, they just don't feel like staged shots. They look like I expect my shots to look after walking around with the camera and taking interesting/silly shots.
With camera in hand I headed out to shoot my first roll of film. I had a goal of taking all the shots on this first roll of film without once looking through the view finder. I'm happy to say that I was able to reach that goal and surpass it. I have yet to look through the view finder, but my wife tells me that if you do, you'll see about 25% of the view finder is taken up by the lens. The view finder does not show you what the shots are going to look like once they have been "fisheyed." I believe I've read that the fisheye 2 camera has a fisheye view through the viewfinder, but don't quote me on that… I'm not reviewing that camera, yet.
The front of the camera has an on/off switch for the flash. It takes only a few seconds for it to be up to speed and ready to go. This is a film camera, so there's no LCD screen for chimping your shots once you've taken them. Once you hit the shutter button, it's going to be a few days before you see what you've taken. I already told you I'm impatient, so this is a feature that I'm going to have to get used to all over again after having nothing but digital cameras for the past 10 years.
One drawback to the camera is the fact that once you wind the film forward, accidentally pressing the shutter button seems like it would be very easy to do. If you put the camera in a backpack or purse, you are definitely going to have a shot of the lens cover when you go to develop your film. To remedy that situation, get in to the habit of taking the shot and NOT winding the film forward until you are ready to take another shot.
I carried the camera with me for 2 days in order to take the first roll of film. The best thing I can tell you is that I've learned a lot about the camera after just 1 roll of film. For example:
Shots with the flash taken up close tend to blow out the subject (see shots 1-3 below)
Shots taken inside without the flash tend to turn out really dark (see shots 11-12)
Shots taken outside in daylight look great! (see shots 22-27)
To sum it up, the fisheye lens camera has no chance of becoming my everyday camera. But, I can definitely see carrying it along to take some "flavor" shots while out and about. I'm quite pleased with the camera and can't wait to start shooting roll number 2.
As a secondary incentive for purchasing the camera, I'm also entering the $50 Film Camera contest over at EpicEdits.com. Wish me luck!