Recently I dropped and broke my digital camera so it was time to head to the store to pick up a new one. My requirements were pretty simple. I was looking for a pocket sized camera with a decent sized viewing screen and at least 5.0 MP. After checking out several cameras, I decided on the Fuji Finepix Z5fd 6.3 MP Digital Camera with 3x Optical Zoom.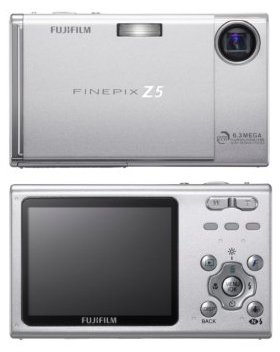 Like I said, my requirements weren't very difficult to meet. So when I got the camera home and started using it, I was pleasantly surprised by all the extras that came along with it. The 6.3 megapixels capture enough detail that you can print photo-quality pictures up to 14 x 19 inches in size. The 8 x 10 prints I've made from shots taken with this camera are amazing.
The viewing screen on the back is a 2.5 inch scratch resistant LCD. This was an absolute must! The big screen makes it easy to use all the menu options, and when viewing the shots you've already taken it's easy to see which shots you want to save and which you want to delete. I've been carrying the camera in my pocket most every day and there are still no scratches at all on my screen.
The Finepix Z5 also shoots video. When you are out with your friends and somebody is about to do something really stupid, it's nice to have a video camera so quickly available. I have a 1 GB Xd memory card in my camera and can shoot about 15 minutes of video at 640 x 480 resolution. Once I get home it's a piece of cake to grab the videos from the computer and upload them to YouTube.
The sliding lens cover makes for a super quick on/off switch. If you are putting the camera in your pocket, you will want to be careful not to slid the lens cover open.
The camera performs better than expected in low light situations. Here's a photo I took at an awards show.
The camera can also be set to several different modes depending on what you are shooting. The "Natural Light" setting takes two photos in rapid succession, one with flash and one without. Then, both images are displayed on the screen. This is great for shorts where you aren't positive if the flash is going to be needed. I also like the "Continuous" mode. When using this setting, the camera will keep taking photos one after the other for as long as the shutter is held down. For capturing natural looking shots, this mode is fantastic.
The camera comes in three different colors. I bought the silver one for myself. My wife liked my camera so much she had be buy her the wine red model. It looks pink if you ask me. There is also a chocolate colored version as well.
Overall I'm thrilled with the Fuji Finepix Z5 camera. It far exceeded my expectations and would happily recommend the camera to anyone looking for a compact digital camera.
You can purchase the Finepix Z5 from Amazon.com. Or, if you would like to see all the technical specs for the camera, you can find them at fujifilmusa.com.