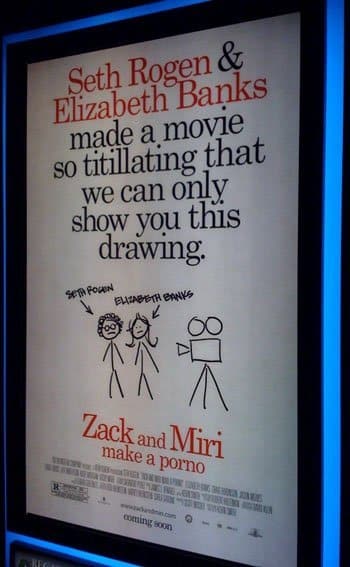 Let me start by saying, if I had my choice, I would see EVERY movie at free preview shows. No, not because they are free (though, it's a nice perk), but because a whole bunch of old people sign up for free movie tickets whenever they get a chance. It was funny as hell to be in line tonight with a group of old people right behind us and hearing old dude #1 say to old dude #2, "So, what's this movie about?" And, if you read my post about seeing Choke a few weeks ago, that movie had an old lady crying after it was over.
Zack & Miri was written and directed by Kevin Smith, who has written several other movies like Clerks, Mallrats, Chasing Amy & Dogma. I've been a huge fan of his (and his movies) for quite a while, so when I first heard the title of this film, I was certain we'd be seeing it opening weekend. We scored some preview passes so we didn't even have to wait for it to hit the masses. Suck it, bitches! The past few months leading up to the release, we've been reading about Smith's battles with the film ratings board trying to get an R rating for the film rather than the NC-17 rating they gave it originally. After an appeal, he got his wish.
I love the cast of Zack & Miri. Seth Rogan and Elisabeth Banks (HOLY CRAP SHE'S HOT!) are a classic pair. They work really well together and I like they way they played out their relationship. Justin Long's character is over the top and freakin' hilarious. Craig Robinson (Darryl from The Office) has some excellent lines in the movie as well. He's not over the top funny, but more of a subtle humor that had me cracking up. Jason Mewes (Jay of Jay & Silent Bob) is Mother F'n Awesome. This role isn't much different than that of Jay, and that's just fine with me. And how could I possibly forget Traci Lords as Bubbles. Her sex scene is laugh out loud funny!
If you are looking for an escape from all the politics we're currently being force-fed by every possible media outlet, Zack & Miri will do the trick nicely. You may want to leave the kids at home for this one, though. 😉 (you probably figured that out from the title, though)