Since starting 9seeds back in October, we've collected a fair amount of contact information for clients and prospects. The trouble is, we don't really have a single place where we can keep that information and share it between our geographically diverse team. I've tried a few CRM programs like Sugar CRM and Highrise, but a CRM is way more than what we need. I'm just looking for a simple way to store my contacts and make them available to the people in our company.
I entertained the idea of building my own contact manager as a theme for WordPress using Custom Post Types and Taxonomies. But before I wrote my own, I sent a request on Twitter asking if one already existing. That is when I was introduced to RoloPress.

From their About page:
RoloPress is an Open Source Contact Manager, licensed under GPL v2, and built on the WordPress platform (also, Open Source). That means that you can download it, modify it, do whatever you want to it. Isn't Open Source great!
I took a quick look at their demo site, and at first glance, it appears to be exactly what I'm looking for. So far, so good. Time to test it out myself. After downloading the core theme and the child theme I was ready to get started!
Installation:
I had a little trouble, albeit self-inflicted, with the installation when I tried running the theme on an existing WordPress install on my development server. It did not care for the existing content in my database. So to install it, here is what I suggest:
Set up a fresh install of WordPress
Delete all default pages and posts
Upload the RoloPress core and child theme
Activate the child theme
Side note: If you are planning to run RoloPress on a server accessible via the internet and don't want to give everybody access to your information, you should install a plugin like Force User Login.
Setup:
RoloPress is VERY customizable. After the install the first you need to do is select one of the many (13) page layout options by going to Appearance -> Layout from the WP dashboard. I messed around with a few but settled on "2 columns, primary on top right, secondary on bottom right" which looks something like this:

The content for each layout is handled by widgets. Again, there are many to choose from and you'll likely want to play around with the placement and order of the widgets. After you have a few contacts in the system, try moving the widgets around and viewing the results to find the configuration that works best for you.
After the install and setup are completed, you won't be back to the WordPress dashboard unless you want to tweak more settings. Everything else from this point forward takes place on the front end of the site.
Adding Data:
When you first install RoloPress, it creates a few pages automatically. Two of those are used for data entry; Add Company and Add Contact. When I first viewed the page I instinctively clicked Add Contact. The Add Contact page is really straight forward. It has all the requisite fields you'd expect in a contact management system, including a field marked Company. I'll come back to that in a second.
I filled in all of the contact information for one of my clients. I clicked the Add Contact button and then headed back to the home page to check out my handy work. Here is what my results looked like: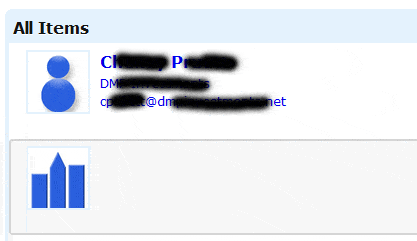 The form saved my contact just fine, but it also created a record for a new company. The trouble is, the company record was entirely blank. I clicked Edit for the company, updated the information and saved it and everything was fine. This is obviously just a bug and I expect they'll clean this functionality up in a future version.
One other small bug I found on the Add Contact page also has to do with the company field. I entered 9seeds, LLC as the company name, and when I saved the page, it assumed the comma was a delimiter and it created 2 company records. I removed the two blank company records and decided to try the Add Company page first. I filled in all of the information about the company and saved the entry. I then went back to the Add Contact page to test it out again. In the screenshot below you can see that the form auto-suggested the company name. This worked perfectly and was really simple now that I had the process down.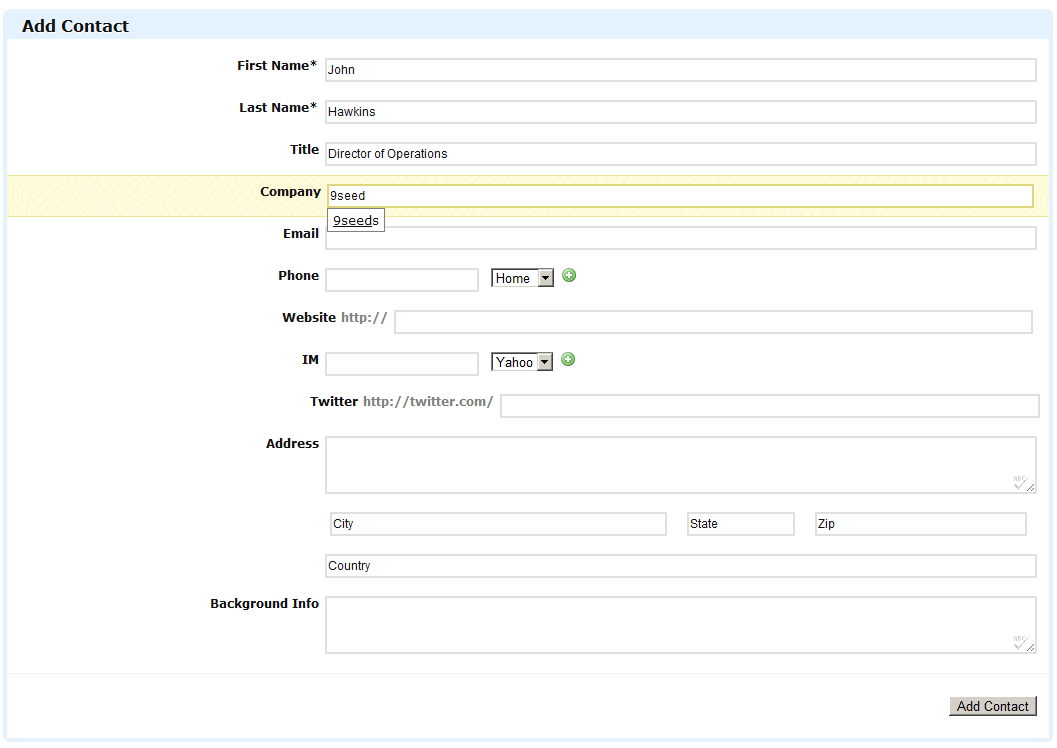 Finding Contacts:
Once I had a few contacts in the system, I was really curious how well the search functionality was going to work. If you have a ton of data in the system, how good is it if you can't get to it easily? I have to say that the search functionality in RoloPress is excellent! I tried a bunch of different searches; first name, last name, part of an address, city, on and on and on. Here's an example of a search I ran for "hen". It returned 3 results where 'hen' was found as part of a street name in the first record and part of the city name in records 2 and 3. You'll also noticed that it returned 2 contacts and a company record.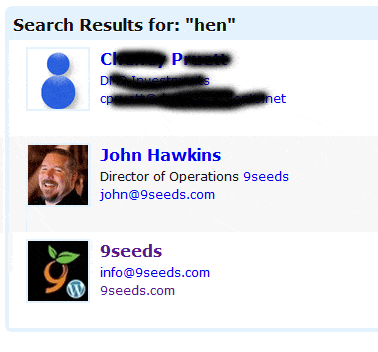 In Summary:
From a developer's standpoint, since RoloPress stores contact data as metadata attached to posts, building add-on functionality that uses that data for things like mass emailing your contact list would be pretty straight forward if you are already comfortable building WordPress plugins that interact with post data. And, if you can't find a layout that matches your exact needs, taking the existing parts and creating a new template would also be pretty simple.
RoloPress isn't ready for enterprise level Contact Management, but, if you just need a place to store some contacts, it does a solid job. I'm definitely going to continue using it as it fits my needs perfectly. The small bugs I found have easy workarounds so I don't see them being any trouble whatsoever.