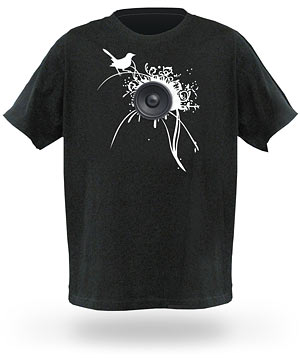 It's getting trickier all the time to properly RickRoll somebody these days. All my friends now refuse to click on any tinyURL link I send them for fear that they are about to receive a dose of the awesomeness that is Rick Astley.
By posting this, it's already too late for me, but that doesn't mean you can't get the joy out of it. This shirt I found on ThinkGeek.com is the ultimate weapon for RickRolling your friends and co-workers. It comes with a speaker in the center of the chest and a remote control with an SD card reader built in. Throw some Rick Astley MP3s on the card, pop it in and you are ready to to get Rollin'. Wear the shirt under a sweatshirt and then when they least expect it, press the button and give it to 'em! As they start humming along, they won't know what hit 'em.
The microphone and wires are removable so you can wash out the stains from the food that your friends are going to pelt you with after you RickRoll them for the 27th time.
Not interested in RickRolling? Throw the theme to Rocky on there and play it when you hit the gym. Add Homer Simpson quotes to it and play them in meetings at work. There are literally thousands of ideas for this great shirt, I'm sure you can think of some yourself.