So many tools that you run across on the Internet claim to save you time. When you try them out you find that they save you time initially, but as you use them more and more they have other aspects that end up costing you time. You can get blinded by the initial time savings. When I first heard about tubemogul.com, the first thing I was told was that it's a huge time saver. When this is the lead-in, I've become jaded and immediately look for the catch.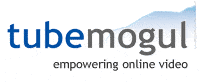 If you are unfamiliar, tubemogul.com is a free service that lets you upload a video to their site and then from their control panel you can have your video posted to several popular video sites, like: youtube, google, yahoo, revver, metacafe, myspace and several others.
Sounds great, right? So far, so good. The upload process is simple. You title, tag and categorize your video one time through a very simple interface. You select the video sites you want to post to, enter your username/password for each site and click the post button. Your video gets pushed out to several sites at once.
With most services, this is where the time savings would stop. Not with tubemogul. Here's the part that really sold me on the service. Starting the day after you upload your video, tubemogul starts collecting stats for your videos across all the sites where you've published your video. You don't need to log in to each of your video site accounts to see how many viewers you have had. You can check them all from one centralized location.
If you use video as part of your marketing or advertising and you aren't using tubemogul, you are crazy. Did you miss the part where I said the service is free?
Check it out, you'll be glad you did.