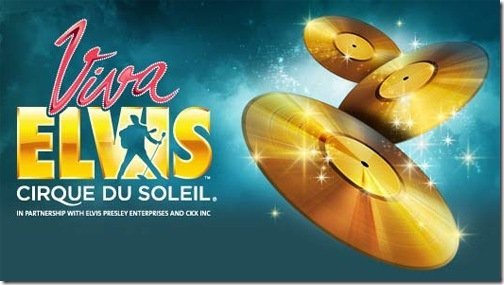 On New Year's Eve we had the chance to go check out the latest Cirque Du Soleil show, Viva Elvis. New Year's Eve isn't a day I would normally head down to the Las Vegas Strip since they close off the streets around 6:30 when the mayhem starts to happen. But, these tickets were for the 4:00pm show, so we figured we could high-tail it out of there and be back home long before the crazyness began. Lucky for us, that is exactly how it happened!
We left the house extra early since we were going to a brand new casino, on the strip, on New Year's Eve. We figured we'd need extra time, and boy were we right. It took us over an hour to get from our house in to the valet parking at Aria. This drive should normally take us no more than 25 minutes. Once we were parked we headed inside. The new casino is gorgeous, of course. We made our way to the theater and quickly found our seats in the balcony.
A few minutes before the show started, one of the characters from the show walks through the crowd handing out prizes for correctly answering an Elvis trivia question, singing like Elvis or for giving your best Elvis lip curl. The fan interaction is always fun and I'm glad that aspect got added in to the show.
I'm not going to dissect the entire show, but I do have some constructive criticism I'd like to share:
First up, the stage/seating. In most of the Cirque shows, the stage itself plays a pretty big part in the show. If you have ever seen 'O', Mystere, Love or especially Ka, you know what I'm talking about. In some of the shows the people sit on all sides of the stage, in others the stage moves and contorts to change the dynamic of a scene. In Viva Elvis there are a few times where the stage has sections that raise or lower, but for the most part it's flat and the audience is sitting all on one side like you were seeing a movie.
Next up, the dancing. If you ask people who have never seen but only heard about a Cirque show what they are all about, they'll most likely tell you about the amazing acrobatics. This show has a couple acrobatic segments, but there are far more dance sequences than there are acrobatics. Not trying to take anything away from the amazing trampoline segment, but that's a pretty small portion of the show compared to how many times you'll see formations of dancers shaking their stuff. I'm not saying they aren't good at it. But throw in some back flips or something. 🙂
And finally, the narration. Most of the Cirque shows tell a story or take you on a journey, but, they don't necessarily do it with spoken word. They do it with creativity. In Viva Elvis they use an actor playing the part of Col. Tom Parker, Elvis' manager. He walks in and out of scenes throughout the show walking you through the life of Elvis. I've always thought that Cirque shows were meant to be enjoyed universally no matter what language you spoke.
I certainly don't mean to bash the show. We both enjoyed it and there are definitely some bright spots to be found. For example, the two drummers in the show are absolutely fantastic. The trampoline scene, like I said before, is great. I could have watched those performers for hours! They also have some great footage of Elvis that they intertwine with the show nicely.
I know the show is new and I write this hoping that they see it (everybody reads my blog, right?) and can make some edits to the show to make it awesome. It has a good base, it just needs some polish.
In my best Elvis voice, 'Thank you very much.'