WordCamp Phoenix 2011 recap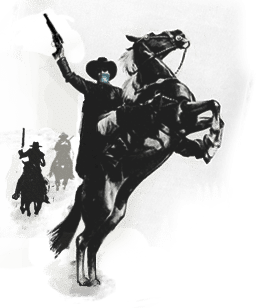 A little more than a year ago I had the opportunity to speak at WordCamp Phoenix. That turned in to one crazy weekend as I ended up speaking at WordCamp New York that same weekend. I was really bummed not to have been able to stick around in Phoenix longer as the event was HUGE! So, when they announced they'd be doing another WordCamp, I cleared my schedule and planned to attend. The weekend did NOT disappoint!
Day 1 – Getting There, Meetup, Pubcrawl
We hopped in the car Friday morning and arrived by mid afternoon. We unpacked at the hotel and headed over to the San Tan Brewing Company where we met up with about a dozen WordPress developers, half of which I knew via twitter, but had never met in person. We spent a couple hours talking shop at San Tan before we headed back to the hotel for a quick change of close and then a half hour drive to attend a meetup at Co+Hoots (a creative co-working space). From there we piled 17 people (not a typo) in to my Tundra and drove to what was supposed to be the kickoff spot for a pubcrawl. Instead, the bulk of us hung out at an Irish Pub before heading back to the San Tan for a couple more beers (they make some great beers!) and a lot more shop talk. As a note to myself: maybe a couple less beers the night BEFORE WordCamp next time…
Day 2 – The Main Event
Saturday morning we got up early, grabbed some breakfast (underwhelming breakfast buffet at the hotel) and walked to the Chandler Center for the Arts where WordCamp was being held. We got there early to avoid the big lines I was expecting to see since there were 600+ expected to show up. It took the wife and I less than 5 minutes to get in and get our badges and t-shirts. After the opening remarks it was on to a great set of sessions. Here's the ones I sat in and my take on each.
A/B testing the WordPress Way presented by Mitcho
I saw Mitcho give a very brief intro to A/B testing at WordCamp San Francisco last year, so I was really excited to see his presentation when he had a little bit longer to speak. After a quick slide presentation he hopped in to a live demo of a WordPress plugin he wrote called ShrimpTest. He gave me so many ideas on things I could be doing on my own sites not to mention what I could be offering to some clients we have who could really make use of this excellent plugin.
Follow mitcho on twitter at @themitcho
User Security presented by Dre Armeda & Brad Williams
This is a session that I think every person who runs a WordPress site should have to sit through at least once. The guys took turns showing some things you shouldn't be doing (downloading free WordPress themes from untrusted sources) and a list of things you can do to secure your WordPress install. You'd be amazed at how many of these can be done in under 5 minutes each.
Follow Brad and Dre on twitter at @williamsba & @dremeda
Typography & WP presented by Chelsea Otakan
I don't really do a heck of a lot of site design. Most of my time is spent writing code. Regardless, every time I have the opportunity to hear Chelsea give a presentation, I jump at the chance. I end up taking more notes in her design preso than I do in programming presos. I figure if I can pick up a tip or two from her extensive design knowledge, in a pinch I could maybe (just maybe) put something together that doesn't completely suck.
Follow Chelsea on twitter at @chexee
I skipped the next round of sessions to head back to the hotel and pick up my laptop as I was scheduled to take part in the Genius Bar after lunch. When I get back from the hotel I spent some time chatting with and getting a demo from Andrew Norcross about some scripts he's put together. (very handy, thanks!)
After lunch I missed the next two sets of sessions which is a bit of a bummer. I would have really liked to have seen Ryan Duff and Andrew Norcross as they were both presenting on different aspects of using Custom Post Types. We've been using CPTs a lot in our business lately and they are very powerful and flexible. It would have nice to have seen what these two really bright guys had in store. Hopefully I can find copies of their slides online.
Plugins for Designers presented by Cody Landefeld
Cody gave a quick introduction to about half a dozen plugins and how designers can use them for clients in their site design/development. He included some screenshot examples for each plugin used, the method of enhancement and the outcome achieved. Just like with Chelsea, this isn't the stuff I do most often, but it's nice to see good examples just the same!
I almost skipped out on the lightning sessions. I'm really glad I didn't. I hope the videos from these sessions make it online as there were some really entertaining and informative sessions. It would be hard to recap them all as I wasn't taking any notes, but just kicking back and enjoying.
Some of the WordCamp presenters have uploaded their slides to slideshare.net and you can find the bulk of them under the wcphx2011 tag. Hopefully more will follow suit.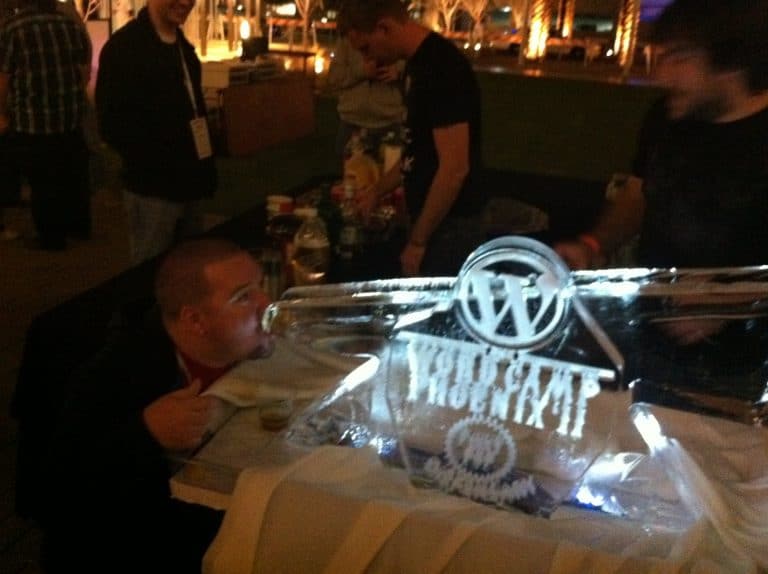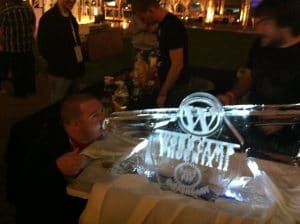 The official after party was a blast. page.ly brought in a photo booth where they took Red Carpet photos as people showed up and costumed tomfoolery photos after the alcohol had been flowing for a bit. There was some yummy tap beer from Four Peaks Brewery and some tasty food from Famous Dave's BBQ. And, to make sure this WordCamp wouldn't be outdone by any WordCamp any time soon, they had a bad ass WordPress ice sculpture / alcohol luge. Jager anyone?
After 2 long days of driving and talking pretty much none-stop, we called it an early night (after stopping off at San Tan for a quick bite and more beer, of course). And, if this had been the end of it and we headed home on Sunday morning, I would have called it a really good event and been content.
Day 3 – Dev Day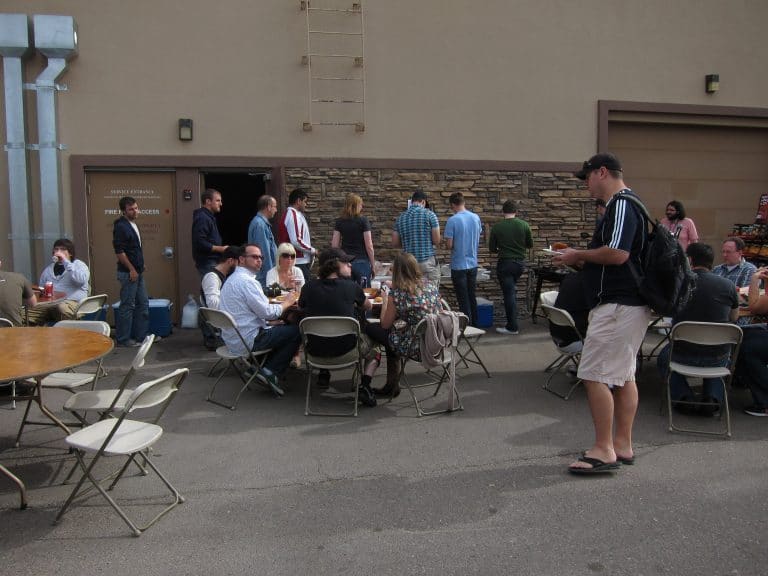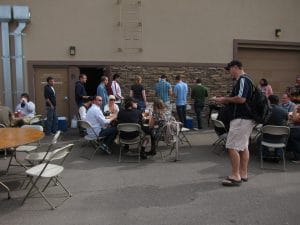 On Sunday morning I got up and headed over to Gangplank which is an absolutely awesome co-working space. Our friend Abbie Sanderson was teaching a class called WordPress for Kids to a group of about a dozen kids that looked like they ranged in age from 8 to 13. It was a really unique event and I'm glad I had a chance to see it in action. Just before lunch, the kids headed home and a couple dozen WordPress developers took the place over. It started off with a BBQ in the back alley and some chit-chat. After everybody was finished we all took seats back inside.
It started off with a bunch of the WordPress core developers helping several developers get their development environments set up to be able to work on WordPress locally. It was awesome to see everybody pitching in to help get others up to speed.
Next, Andrew Nacin gave a presentation about how to contribute to the WordPress project. He cover, in detail, how to find tickets to work on, how to submit patches and how to submit tickets to TRAC. Since I had recently submitted my first ticket, I followed along looking at my ticket and seeing all the things I did wrong. 🙂 I asked a bunch of questions and it even had a few discussions about the ticket with Mark Jaquith, Aaron Jorbin and Nacin. For me it wasn't so much about the one specific ticket, but way more about the process of dealing with a ticket. The ticket had been closed at one point, I've since reopened it and there has been some debate about the ticket. Todd Huish wrote a patch for the ticket and it looks like unless things change, my ticket and Todd's patch will end up as part of the software that MILLIONS of people use every day. Seriously, how cool is that?
In Closing
This was the 20th WordCamp I've been to in 2 years and it was by far the most valuable. Late last year I submitted my first patch to the WordPress project and it got accepted and it will be part of WordPress 3.1. This has whet my appetite and I'm itching to submit more often. Getting this first hand knowledge on the how to do it properly is invaluable.
HUGE thanks to everybody who had a hand in putting on WordCamp Phoenix. You did an amazing job and you should be very proud!