I'm just getting back to my desk after spending the better part of 3 days in Salt Lake City to attend and present at WordCamp Utah. I had an absolute blast! Here's a bit about the weekend.
The Stay
I can not say enough good things about the Chase Suite Hotel. When we arrived at the airport, we called and asked if they had a shuttle. We hadn't requested the shuttle ahead of time and yet they showed up in about 20 minutes to pick us up. We mentioned we were planning on going out to dinner and our driver said, "just let us know when you are ready." Sure enough, 30 minutes later they gave us a ride to dinner. The rooms are very reasonably priced, they have a full kitchen, complementary breakfast and free internet access. They rocked!
OK, speaking of dinner, Todd and I hit up The Pie for an awesome pizza. Todd ordered us a Cheese Pull-A-Part and a Mountain of Meat pizza. They serve the pull-a-part with their home made ranch dressing. Seriously, it was the best ranch I've ever tasted. If you've never been to The Pie before, you have to stop in as you pass through Salt Lake.
WordCamp Utah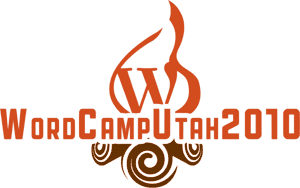 We spent all day Saturday at WordCamp. It took place on the U of U campus in the Skaggs Biology building. Excellent venue! The main room had power outlets under each seat, and for probably the first time at any WordCamp I've ever attended, the free wifi worked the entire time. Those two things alone make this a successful WordCamp in my opinion. But wait, there's more!
During lunch I was chatting with somebody who was attending their first WordCamp event. I mentioned that it was roughly my 15th. He asked, "Don't they get repetitive?" I said, "Sure, but that doesn't mean I don't learn something new at every event I go to!" This one was no different. I picked up a couple tips in the first two sessions I went to in the morning. (I'll be doing a follow-up post to talk about a plugin I wrote at the airport based on something I learned in Jake Suprlock's presentation.) Plus, every WordCamp has something unique to offer. Just after lunch we were treated to a session with Tom from BlendTec, the company who makes the blender used in the WillItBlend.com videos. Tom is a very entertaining guy with some great stories to share on how they used social media to raise their online sales by 700%.
My Presentation
Right after Tom blended up a WordPress mug, it was time for me to give my presentation on beginning plugin development. While I've given a similar presentation several times in the past, this one was completely different. Normally I would just use a browser and text editor to show a live demo of how to build a plugin. But for this one, I used Keynote to create slides and did it more like a "normal" presentation. I have to say, I really enjoyed giving the presentation this way. I found that being able to maintain eye contact with the audience rather that staring at my screen made it easier to engage the crowd. This led to the audience asking a bunch of questions which turns it into more of a conversation than just a presentation. Based on the feedback I received after the presentation, I'd say the audience appreciated that as well. You can check out the slides from my presentation on slideshare.net.
Overall it was a terrific weekend. Congrats to Joseph Scott and his team of volunteers for organizing an excellent event! I'm already looking forward to next year's event.